David Rathgeber's
Miscellanea
Go to...
Updated versions of home selling articles that David wrote for The Washington Times
Smart-phone apps and Robocall Solution
Inverted yield curve: Recession coming?
Revisit the past
Help! Fight word extinction
Very punny VIII
See Captain Greg on the National Geographic Channel
Michael is again at the Smithsonian June 13
What newspaper do you read?
Signs, signs, everywhere signs...
Join the dumbbell investors club
Bubbles in the news
Very punny VII
Very punny VI
Michael is busy preserving mummies
Darwin Awards
Simply amazing!
Need to shed some pounds?
A simple game for anywhere
Are You Wireless?
Notable quotes from Yogi Berra
Michael talks at the Smithsonian
Very punny V
Michael sheds light on Dr. Livingstone
From real estate writer Lew Sichelman
Very punny IV
Uncovering Old Medicine
Save a life
The visit of Lafayette's frigate
Very punny III
Investment diversity
Have some real fun
Michael continues to push the frontiers of antiquity
Ebola in Reston!
Interesting thoughts on Title Insurance
You're From Northern Virginia If...
Smart smart-phone apps
If Your Wallet Disappears
Very punny II
Important information when you go to the hospital
Statins: Can this help anyone you know?
Very punny I
Potpourri: A few things you might use or enjoy...
Reverse mortgage considerations
Interesting, and perhaps even true
Thoughts To Get You Through Any Crisis
Tips to help avoid identity theft
Especially Helpful Windows Shortcuts
Investors Glossary
On-line shopping
Thoughts for Today
How long to retain your financial records
The internet connection Speed Test
Michael works on ancient Sinai desert manuscripts
Interesting Quotes

[Return to Top]
May 2019 — Smart-phone apps and Robocall Solution

Robocall Solution: Call Control for Android or iPhones. Try it free for a week, then get 3 months for $10. The beauty: It lets you use wild cards! I was getting up to 12 calls a day from 267-756-2XXX, in which the last three digits varied at random. This app works well, but it might take some trial and error to get it set up as you want.

Tip 1: To be sure your phone is connected to the strongest cell signal, turn airplane mode on, then off.
Tip 2: Listen to WTOP radio anywhere by calling 202-380-9977

The following are Android apps, but the same or similar ones are no doubt available for I-phones.
Network Cell Info Lite — Checks the strength of your cell and wireless signals
First Aid — Quickly access life-saving information
GasBuddy — Find the cheapest or closest fuel

iExit — Locate gas, food, lodging, etcetera at the next several Interstate exits

Waze — Find out what's on the road ahead, the speed limit, your speed, and lots more

Google Drive — Store files and access them on your phone

Google Maps — Get current traffic conditions and GPS directions

Sound Meter — How loud is your neighbor's stereo? Find out with this app

Gauss Meter — Is there a gauss (electromagnetic radiation) in the house? Also check out power lines or a transformer installation

QR Droid — Read UPC and QR codes (e.g. on YFiRE signs)

RadarNow! — View weather radar and receive weather alerts

SpeedView — How fast you are really going?

Compass
You likely received these useful apps with your phone.
Mobile Hotspot to connect your computer to the Internet

Clock with an alarm and stopwatch

Calculator

Flashlight
Ask about specialized marine or real estate apps, and let me know if I missed one of your favorites.

[Return to Top]
April 2019 — Inverted yield curve: Recession coming?
The sky is falling! The sky is falling! Have you heard the news? The yield curve is inverting: Short-term bonds are yielding more than long-term bonds.

What the media forgot: The Fed is selling billions of Treasuries every month, which might be introducing perturbances. If it sells more short-term bonds, the extra supply would push the price down and the yield up, possibly higher than long-term bonds. Hhhmmmm.

Some of the recent media grousing referred to the 3-month note, whose yield has been rising for a year so. When the Fed raises overnight interest rates, as it has been doing for a year so, short-term notes like the 3-month are most affected. Duh!

The long-term bond yields are merely back to where they were a year ago. If a recession is really coming, this is not the harbinger. Remember where you heard it first.

(Editor's note: Janet Yellen sees it my way.)

Some still see a recession coming: The last time the yield curve inverted was 2007, and we all remember what happened then. But conditions then were much different. See my brief exposé of that debacle.

. . . and while we're celebrating the best first quarter since 1998, let's take a moment to reflect on where we started from: December 31.

[Return to Top]
November 2018 — Have you ever heard someone say ...
It's your nickel.
Number please?
Kilroy was here.
We were in like Flynn. (Hhhmmmm)
Living the life of Riley.
We were hung out to dry.
Wake up and smell the roses.
Don't take any wooden nickels.
. . . when I get a round-tuuit.
Put on your best bib and tucker.
You sound like a broken record.
He was just knee high to a grasshopper.
Wonder where Superman will find a phone booth?
See ya later, alligator. / After while crocodile.
More . . . than Carter has little liver pills.
It takes one to know one.
Don't touch that dial.
Stay tuned.
Styles that are
not
returning soon ...
Hair: Beehives; pageboys; and the D.A.
Clothing: spats; knickers; fedoras; poodle skirts; pedal pushers; and hi-rise, pegged, and saddle-stitched pants.

[Return to Top]
October 2018 — Help! Fight word extinction
Please resolve to use at least one of these words every day ...
Swell
Pshaw
Hey!
YO!
Jalopy
Knucklehead
Nincompoop
Hunky-dory
Carbon copy
Okie dokie
You have to be over 50 years old if you say "you're welcome," and when is the last time you exclaimed ...
Holy moley!
Gee whillikers!
Heavens to Betsy!
Heavens to Murgatroyd!
Straighten up and fly right!
Not for all the tea in China!
Well, I'll be a monkey's uncle!
This is a fine kettle of fish!
Jumpin' jehoshaphat!
Oh, my aching back!
Fiddlesticks!

[Return to Top]
August 2018 — Very punny VIII
If attacked by a mob of clowns go for the juggler
This is my step ladder I never knew my real ladder
My wife said I never listen to her or something like that
Went to the air and space museum but there was nothing there
If your car is running I'm voting for it
What happens if you get scared half to death twice?
I want to grow my own food but I can't find bacon seeds
They're not going to make yardsticks any longer
If you think education is costly, try ignorance
Practice safe eating: Always use condiments
The past, present, and future walk into a bar. It was tense
Ban pre-shredded cheese: Make America grate again
Frog parking only, all others will be toad
I child-proofed my house but the kids still get in
Is there ever a day that mattresses are not on sale?
The first 5 days after the weekend are the hardest
I checked in to the Hokey Pokey Clinic and I turned myself around

[Return to Top]
July 2018 - See Captain Greg on the NatGeo Channel

The Wicked Tuna Outer Banks 2018 weekly series begins at 9pm Sunday July 1. I have been fishing on the Fishin' Frenzy since 1999. Click here for details.

[Return to Top]
June 2018 - Michael is again at the Smithsonian June 13

Click here for details.

[Return to Top]
May 2018 — What newspaper do you read?
The Wall Street Journal is read by the people who run the country.

The Washington Post is read by people who think they run the country.

The New York Times is read by people who think they should run the country, and who are very good at crossword puzzles.

USA Today is read by people who think they ought to run the country but don't really understand The New York Times.

The Los Angeles Times is read by people who wouldn't mind running the country, if they could find the time and if they didn't have to leave Southern California to do it.

The Boston Globe is read by people whose parents used to run the country.

The New York Daily News is read by people who aren't too sure who's running the country and don't really care as long as they can get a seat on the train.

The New York Post is read by people who don't care who is running the country as long as they do something really scandalous, preferably while intoxicated.

The Chicago Tribune is read by people who are in prison, who used to run the state, and would like to do so again, as would their constituents who are currently free on bail.

The Miami Herald is read by people who are running another country, but need the baseball scores.
The San Francisco Chronicle is read by people who aren't sure if there is a country or that anyone is running it; but if so, they oppose all that they stand for.

The National Enquirer is read by people trapped in line at the grocery store.

The Seattle Times is read by people who have recently caught a fish and need something to wrap it in.


[Return to Top]
February 2018 — Signs, signs, everywhere signs...
In a shoe repair store:
"We will heel you
We will save your sole
We will even dye for you."

On a Tire Shop in Milwaukee:
"Invite us to your next blowout."

In a Veterinarian's waiting room:
"Be back in 5 minutes. Sit! Stay!"

In front of a Funeral Home:
"Drive carefully. We'll wait."

At a Propane Filling Station:
"Thank Heaven for little grills."

In a Chicago Radiator Shop:
"Best place in town to take a leak."

On a Plumber's truck:
"We repair what your husband fixed."

On another Plumber's truck:
"Don't sleep with a drip. Call your plumber."

Outside a Muffler Shop:
"No appointment necessary. We hear you coming."

In an Optometrist's Office:
"If you don't see what you're looking for, you've come to the right place."

At the Electric Company:
"We will be delighted if you send your payment on time. However, if you don't, you will be de-lighted."


[Return to Top]
January 2018 — Join the dumbbell investors club

This is about dumbbell investing. If you buy and hold individual stocks or bonds, you do not need to read this. However, if you buy funds and plan to sell them someday, this idea is for you.

You should consider avoiding funds that are called "diversified," "balanced," "growth and income" etcetera. Instead, for example, invest in growth funds and income funds separately to accomplish the same objective. For similar reasons, you should also…
keep stocks and bonds in separate funds
keep domestic and overseas investments in separate funds
keep growth stocks and income-producing stocks in separate funds
and avoid the S&P 500 funds (like SPY) in favor of Dow industrial funds (like DIA) in combination with NASDAQ funds (like QQQ).
The reason is relatively simple. When it's time to sell you might want to maximize your gains or even maximize your losses. Your ability to do this will be enhanced greatly by investing in funds that are at the extreme ends of what you are trying to accomplish. Hence the term dumbbell. With funds that are a mix, an amalgamation, or are trying to accomplish two dissimilar goals, you will have a limited choice of what to sell to accomplish your goal.

For an entirely different slant on investment diversity, click here.

[Return to Top]
December 2017 — Bubbles

What's this all about? 'They're forever blowing bubbles, ugly bubbles on the air ...' (Does anyone remember the song from 1918? As a kid I played it on my Grandmother's wind-up Victrola!)

Did you ever see a bubble? Did you ever see a bubble burst? What was left? Absolutely nothing! (Say it again?)

A recent blurb on national media cited four cities including the Washington DC area where home prices are so high that they are unsustainable. The word bubble was used. Without great detail, home prices represent the wisdom of the crowds. The only ones who get to decide if prices are too high are you and me, and only when we're buying a home. The opinion of some "doo-dah expert" might be news, but it is worthless as information.

Also in the media recently, a bubble in bonds was cited. Bonds are a bit different from homes in that there is a national bond market. Its existence distinguishes bond prices from home prices, for which there is no national market, even though national averages can be calculated and reported for both.

Fast-backward 15 years: The media was finally correct about problems in the real estate market, but only after 5 years of grousing about a bubble. Meanwhile they cited a variety reasons, none of which proved correct. If they cared, or had more than half a brain, the story would have detailed mortgage fraud, a factor that was never mentioned. (But don't get me started. OK, click here for more info.)

The media could be right or wrong about where home prices and bond prices are headed. But one thing is for sure: If and when their "bubble" bursts, there will be a lot more left than nothing.

What's the point? This is not about home prices or bond prices, this is about the spin the media puts on everything. Bubble is a lot more attention-getting than "downturn," "decline," or "adjustment." As we get our news, we must always remember that their number one job is to get attention and ratings. A mundane word will never do if a more sensational one is available.

If you're using the news media for information with which you can generate an informed opinion, take action, or make a reasonable judgement, good luck! Most of it is just entertainment.

[Return to Top]
February 2017

Velcro: What a rip off!
Broken pencils are pointless.
When you get a bladder infection, urine trouble.
I dropped out of communism class because of lousy Marx.
What's a dinosaur with an extensive vocabulary? A thesaurus.
All the toilets in the police station have been stolen. The police have nothing to go on.
Did you hear about the cross-eyed teacher who lost her job because she couldn't control her pupils?
I got a job at a bakery because I kneaded dough.
Don't worry about old age; it doesn't last.

[Return to Top]
January 2017

Venison for dinner again? Oh deer!
I used to be a banker, but then I lost interest.
Haunted French pancakes give me the crêpes.
I didn't like my beard at first. Then it grew on me.
I changed my iPod's name to Titanic. It's syncing now.
Why were the Indians here first? They had reservations.
England has no kidney bank, but it does have a Liverpool.
A cartoonist was found dead in his home. Details are sketchy.
I know a guy who's addicted to brake fluid, but he says he can stop any time.
Editor's note:
When I was Chemicals Division Manager for Mobil Oil in London, my folks shipped hundreds of tons of canned brake fluid to Nigeria annually. I once calculated that it was enough to supply 12 times the number of cars and trucks in the country.

[Return to Top]
December 2016 - Michael is busy preserving mummies

Click here for the full story.

[Return to Top]
October 2016 - Darwin Awards

The Darwin Award is an annual honor given to the person who provided the human gene pool the biggest service by getting killed in the most extraordinarily stupid way. The folks below are semi-finalists.

In Detroit, a 41-year-old man got stuck and drowned in two feet of water after squeezing head first through an 18-inch-wide sewer grate to retrieve his car keys.
A 49-year-old San Francisco stockbroker, who "totally zoned when he ran," according to his wife, accidentally jogged off a 200-foot-high cliff on his daily run.
Santiago Alvarado, 24, was killed in Lompoc, CA, as he fell face-first through the ceiling of a bicycle shop he was burglarizing. Death was caused when the long flashlight he had placed in his mouth (to keep his hands free) rammed into the base of his skull as he hit the floor.
In Dahlonega, GA, ROTC cadet Nick Berrena, 20, was stabbed to death by fellow cadet Jeffrey Hoffman, 23, who was trying to prove that a knife could not penetrate the flak vest Berrena was wearing.
Sylvester Briddell, Jr., 26, was killed in Selbyville, Del., as he won a bet with friends who said he would not put a revolver loaded with four bullets into his mouth and pull the trigger.
According to police in Windsor, Ontario, Daniel Kolta, 27, and Randy Taylor, 33, died in a head-on collision, thus earning a "tie" in the game of chicken they were playing with their snowmobiles.
A 7-year-old boy fell off a 100-foot-high bluff near Ozark, Ark, after he lost his grip swinging on a cross that marked the spot where another person had fallen to his death a few years before.

[Return to Top]
September 2016 - The amazing Turbo-Encabulator

Work has been proceeding in order to bring perfection to the crudely conceived idea of a transmission that would not only supply inverse reactive current for use in unilateral phase detractors, but would also be capable of automatically synchronizing cardinal grammeters. Such an instrument is the turbo-encabulator.

The novel principle involved is that instead of power being generated by the relative motion of conductors and fluxes, it is produced by the modial interaction of magneto-reluctance and capacitive diractance.

The original machine had a base plate of pre-famulated amulite surmounted by a malleable logarithmic casing in such a way that the two spurving bearings were in a direct line with the panametric fan. The latter consisted simply of six hydrocoptic marzlevanes, fitted to the ambifacient lunar waneshaft so that side fumbling was effectively eliminated.

The main winding was of the normal lotus-o-delta type placed in panendermic semi-boloid slots of the stator, every seventh conductor being connected by a non-reversible tremie pipe, to the differential girdle spring on the "up" end of the grammeters.

The turbo-encabulator has now attained a high level of development, and has being successfully used in the operation of novertrunnions. Moreover, whenever a forescent skor motion is required, it may also be employed in conjunction with a deep-drawn reciprocating dingle arm, to reduce sinusoidal repleneration.

I am taking questions.
David Rathgeber, BSME (aka YFiRE)
25 year member: Society of Automotive Engineers (SAE)


[Return to Top]
August 2016 - Need to shed some pounds?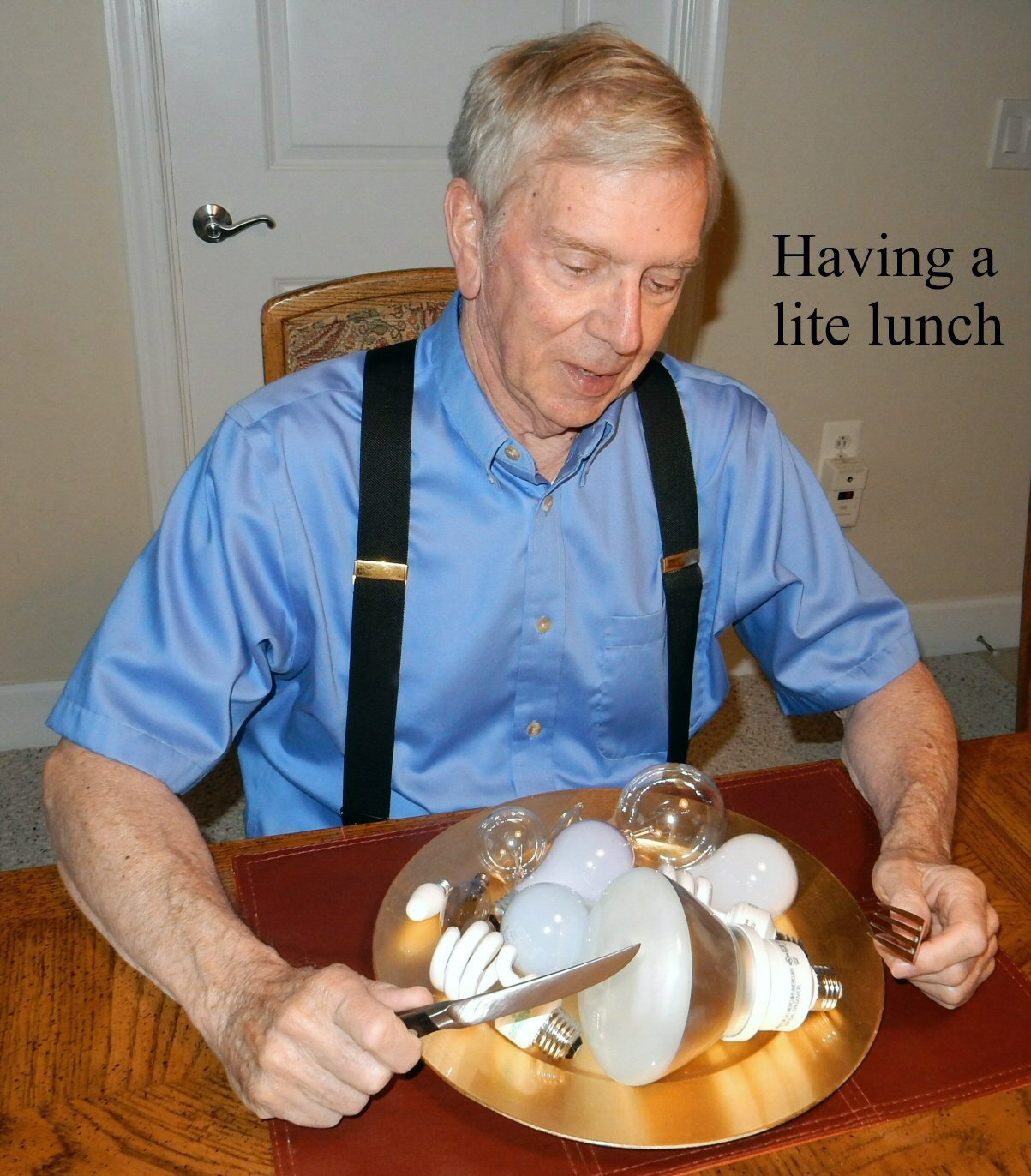 Don't try this at home!


[Return to Top]
July 2016 - A simple game

If you find this game infectious, there is no anecdote!
Start with rows of 3, 5, and 7 matchsticks (or any other objects) as shown below. Two players take any number of matchsticks from only one row alternately. The player who takes the last matchstick loses.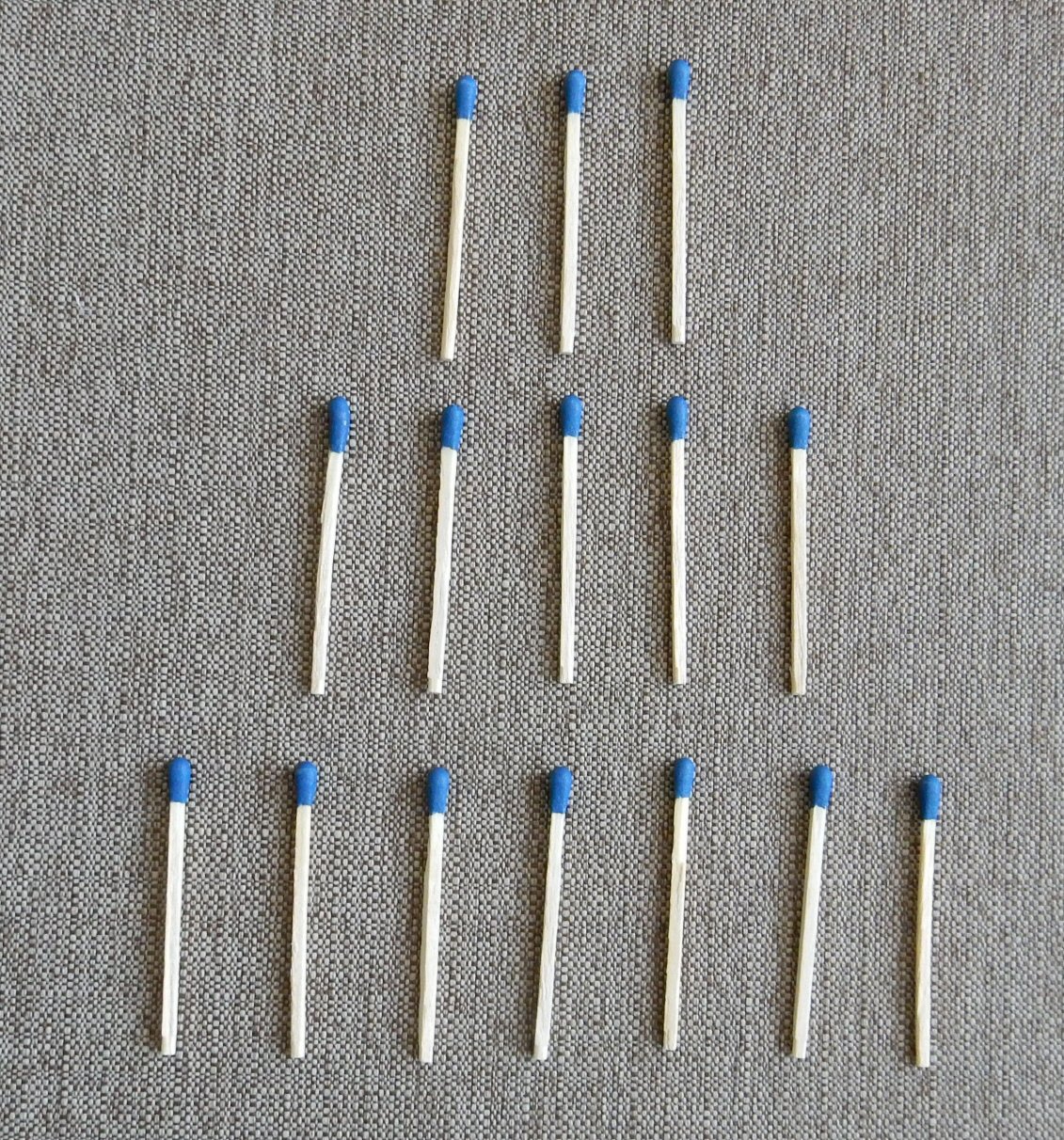 [Return to Top]
June 2016 - Are You Wireless?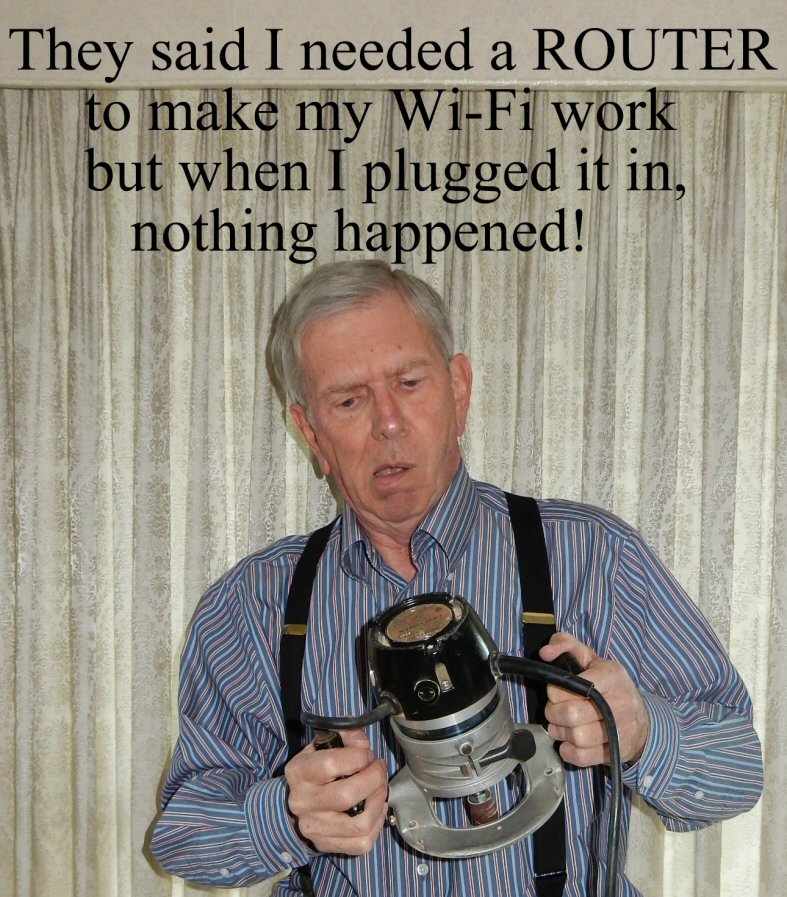 If you can read this, itz working fine.
All I had to do was cut the cord off: Wireless!


[Return to Top]
April 2016 - from Yogi Berra

When you come to a fork in the road, take it.
You can observe a lot by just watching.
No one goes there nowadays, it's too crowded.
We made too many wrong mistakes.
I usually take a two-hour nap from one to four.
Never answer an anonymous letter.
The future ain't what it used to be.
I'm not going to buy my kids an encyclopedia. Let them walk to school like I did.
The towels were so thick there I could hardly close my suitcase.
I never said most of the things I said.

[Return to Top]
February 2016 - Friend Michael talks at the Smithsonian

Click here for information and tickets for February 23rd. Mike will discuss his luminary work to uncover 2nd-century Greek physician Galen's text "On the Mixtures and Powers of Simple Drugs."

[Return to Top]
January 2016

If you jumped off the bridge in Paris, you'd be in Seine.
The midget fortune-teller who escaped from prison was a small medium at large.
In a democracy it's your vote that counts. In feudalism it's your count that votes.
The fattest knight at King Arthur's round table was Sir Cumference. He acquired his size from too much pi.
Someone sent ten puns to a friend with the hope that at least one would make them laugh. No pun in ten did.
When cannibals ate a missionary, they got a taste of religion. When they tried a clown, one asked the other, "Does this taste funny to you?"
A backward poet writes inverse.
A lawn sign at a drug rehab center said: "Keep off the Grass."

[Return to Top]
December 2015 - Michael sheds light on Dr. Livingstone
From the November 2014 Smithsonian Magazine article Decoding the Lost Diary of David Livingstone

[Return to Top]
October 2015 - From real estate writer Lew Sichelman


[Return to Top]
September 2015

A rubber band pistol was confiscated from algebra class, because it was a weapon of math disruption.
A hole has been found in the nudist camp wall. The police are looking into it.
Two silk worms had a race. They ended up in a tie.
I thought I saw an eye doctor on an Alaskan island, but it turned out to be an optical Aleutian.
A dog gave birth near the road and was cited for littering.
A grenade thrown into a kitchen in France would result in Linoleum Blownapart.
Atheism is a non-prophet organization.
Two hats were hanging on a hat rack. One hat said to the other: "You stay here; I'll go on a head."
She was only a whisky maker, but he loved her still.

[Return to Top]
August 2015

Some of the miscellanea below have featured selected articles published by my attorney friend, Bill Fralin. Here is a link to all of his articles. While many are geared to older folks (and I know you're out there) if you check the list, there will be at least a half dozen you will want to review. Happy reading.


[Return to Top]
July 2015

Friend Michael helps to uncover the secrets of early medicine according to this recent New York Times article. Let me know if you'd like to attend his next talk at the Smithsonian.


[Return to Top]
June 2015

Learn this easy CPR and you will be ready to save a life.


[Return to Top]
April 2015

I tried to catch some fog, but I mist.
When chemists die, they barium.
Jokes about German sausage are the wurst.
The soldier who survived mustard gas and pepper spray is now a seasoned veteran.
I know a guy who's addicted to brake fluid. He says he can stop anytime.
How does Moses make his tea? Hebrews it.
I stayed up all night to see where the sun went. Then it dawned on me.
She said she recognized me from the vegetarian club, but I'd never met herbivore.
I did a theatrical performance about puns. It was a play on words.
They told me I had type A blood, but it was a Type O.
A dyslexic man walked into a bra.

[Return to Top]
February 2015 - Investment diversity
We have all heard of Enron and Bernie Madoff, who made off with the money. And there are hundreds more examples out there. No doubt we have also heard: "Don't put all your eggs in one basket." Incredibly, folks lose everything because they do not heed that advice. Why do they continue down such a path? Simply because it seems to work. Do you recognize the name Ponzi? The end comes quickly, so now is the time to examine our own situation.

Every market has its ups and downs: Stocks, bonds, commodities (there's gold in them-thar bags), and even real estate. Only insured deposits and CDs seem fairly safe. We should have at least 3 types of investments; and yes, we can count our homes as investments. Mutual funds, exchange traded funds (ETFs), et cetera provide diversity in many companies and countries.

OK, we've got it! But wait there's more. Did you ever hear of Lehman Brothers? AIG? 911? We should distribute our investments across various companies located in different cities. For example: Fidelity in Boston; Schwab in San Francisco; Vanguard in Valley Forge. And let's not forget to have at least a few CDs at the local branch of our favorite bank, which might be headquartered in Charlotte. If something terrible happens to one company or at one location, your money will be better positioned.

And last, Madoff revisited: If we have a financial advisor with signature authority over our investments, we need to ensure that the advisor is affiliated with a name-brand outfit and has a legal agreement that makes him or her a fiduciary. But your advisor being a fiduciary will not obviate all problems, so we should never let one advisor manage more than we can afford to lose.

Of course, this is just the tip of the iceberg. But a little thought and effort now, when everything seems fine, could be a lifesaver (aka PFD) some day. Alternatively, if you want to avoid all the anxiety, just take your money and dump it into a big hole in the water (translation: boat). Problem solved!


[Return to Top]
January 2015 - Have some real fun

Sing along at the opera.
At lunch time, sit in your parked car with sunglasses on and point a hair dryer at passing cars. See if they slow down.
Page yourself over the intercom. Don't disguise your voice!
Tell your children over dinner, 'due to the economy, we are going to have to let one of you go.'
Specify that your drive-through order is 'to go.'
Five days in advance, tell your friends you can't attend their party because you have a headache.
When the money comes out the ATM, scream 'I won! I won!'
Order a diet water whenever you go out to eat, with a serious face.

[Return to Top]
December 2014

Friend Michael continues to push the frontiers of antiquity. This work on Dr. Livingston's hidden writing follows his work at Saint Catherine's Monastery in the Sanai desert and his work helping to uncover the secrets of the Archimedes Palimpsest. His next talk at the Smithsonian is not yet scheduled.


[Return to Top]
November 2014

Ebola in Reston! Check out the Hot Zone!


[Return to Top]
October 2014

Interesting thoughts on Title Insurance.


[Return to Top]
September 2014 - You're From Northern Virginia If...

You have no idea what at least 2 of your friends do because it's "top secret" government work

The cars in the local high school's student parking lot are worth 3 times those in the teacher parking lot

You've never told someone you're from Virginia without putting "northern" in front of it

When people ask where you're from, you tell them "DC" because it's easier to explain

Helicopters, F-15s, 757s flying above your neighborhood are a normal occurrence

You do your Christmas shopping online because the shopping malls have no open parking spots

When you were driving on the Beltway at 3:13am on a Tuesday there was still traffic

It's not actually tailgating unless your bumper is touching the car in front of you

If you stay on the same road long enough, it will eventually have 3 new names

A slow driver is someone who isn't going at least 10mph over the speed limit

For the cost of your house, you could own a small town in Iowa

There are at least 3 malls within 20 minutes of your house

There are at least 6 Starbucks within 10 minutes of your house

You can cross 4 lanes of traffic in under 30 seconds

It often takes you 30 minutes to drive 5 miles

When traveling, you have your choice of 3 airports

An inch of snow and you miss 3 days of work

Your local news is national news.

[Return to Top]
August 2014 - Smart smart-phone apps

The following are Android apps, but same or similar ones no doubt are available for I-phones.
Gas Buddy - Find the cheapest or closest fuel

Interstate Exits Guide - Gas, food, etc at the next exit

Mobile Hotspot - Connects your computer to the Internet

Google Drive - Store anything and access it from your phone

Google Maps - With current traffic and GPS directions

Calculator

News & Weather

Radar Now - Weather radar

Clock - With an alarm

Ultrachron - Stop watch

Speed View - Speedometer

TuneIn Radio - Hear your favorite station on your phone

QR Droid - Read UPC and QR codes (e.g. on YFiRE signs)
Ask about specialized Marine or Real Estate apps.

[Return to Top]
July 2014 - If Your Wallet Disappears

NOW, before your wallet disappears, photocopy everything. Remember that the backs of your credit cards contain valuable information such as security codes and contact information. Note that you should not carry your Social Security card in your wallet.

If your wallet is lost or stolen:
Change all your passwords.

Call your credit card companies. Do not request them to "cancel" your account; instead ask for an "account number change." Cancelling your account can affect your credit score and cause problems if you have an outstanding balance.

File a report with the police not only in the area in which your wallet disappeared, but also in your hometown.

Contact the three major credit reporting agencies and ask them to put a fraud alert on your account: Experian; TransUnion; Equifax.

Contact the Department of Motor Vehicles and ask them to put a note on your file.

Notify your bank. You will need a new ATM or debit card and perhaps even a new checking account.

Approximately two weeks after your wallet disappears, check your credit history. Visit AnnualCreditReport.com to obtain your free report. Recheck your credit report again after two to three months.

[Return to Top]
June 2014

Without geometry, life is pointless.
Alcohol and Calculus don't mix: NEVER drink and derive!
You could make a pencil with erasers at both ends, but what would be the point?
A teacher went to the optometrist before work. When he got there, he couldn't control his pupils.
Did you hear about the soldier who survived both mustard gas and pepper spray? He's a seasoned veteran.
A Buddhist to a hot dog vendor: "Make me One with everything."
I'm reading a book about anti-gravity. I just can't put it down!
I might push the envelope on occasion, but it's always stationary.
I've been to the dentist so often now, I know the drill.
Time flies like an arrow. Fruit flies like a banana.
A boiled egg is hard to beat!

[Return to Top]
May 2014

Important information for when you go to the hospital.

Uncanny? May 1, the day this was sent, I later found myself using it to check Dorothy into a hospital! (Yes, she's fine.)



[Return to Top]
April 2014 - Statins: Can this help anyone you know?

UPDATE: November 2014 - Apparently all statins (like real estate agents) are not created equal: Recent data seem to suggest that Lipitor is the statin most likely to increase the risk of diabetes while others, notably Pravachol, actually decrease the risk. Meanwhile, the lawyers on TV have started soliciting folks who might have acquired diabetes as a result of Lipitor. So stay tuned!

ORIGINAL POST:
In May of 2010 I was concerned with my blood A1C (a diabetes indicator), which had increased significantly since I started a small dose of Lipitor. (Lipitor is one of several similar drugs generally called statins which control cholesterol.) But a correlation does not automatically imply a causal relationship, so I put the idea in the back of my mind. A few months later I read a Consumer Reports Health article on a different topic that offhandedly made reference to the statins/diabetes link. In February 2011, I was declared diabetic. I felt as though I was starting to descend a slippery slope: Not a good feeling.

Rather than take diabetes pills, I decided to change my life! Never big on real soda, rice, bread, pasta, and potatoes; cutting out something I rarely ate was not a solution. I gradually decreased my Lipitor dose, increased my level and regularity of exercise, and dropped 5% of my body weight. By July 2011, my A1C was back to non-diabetic levels. In 2012, the FDA got on board, warning of the statin/diabetes risk. Statins can be valuable in controlling cholesterol, but users must be vigilant. My guess is that 15% of statin takers will have an A1C problem. So if you are taking statins, monitor your A1C; you might not have to surrender to diabetes.



[Return to Top]
March 2014

A vulture boards an airplane, carrying two dead raccoons. The stewardess looks at him and says, "I'm sorry, sir, only one carrion allowed per passenger."
Two fish swim into a concrete wall. One turns to the other and says, "Dam!"
Two Eskimos sitting in a kayak were chilly, so they lit a fire in the craft. Unsurprisingly it sank, proving once again that you can't have your kayak and heat it too.
Two hydrogen atoms meet. One says, "I've lost my electron." The other says, "Are you sure?" The first replies "Yes, I'm positive."
Did you hear about the Buddhist who refused Novocain during a root canal? His goal: transcend dental medication.
A group of chess enthusiasts checked into a hotel and were standing in the lobby discussing their recent tournament victories. After about an hour, the manager came out of the office and asked them to disperse. "But why?" they asked, as they moved off. "Because," he said, "I can't stand chess-nuts boasting in an open foyer."
Mahatma Gandhi, walked barefoot most of the time, which produced an impressive set of calluses on his feet. He also ate very little, which made him rather frail and, with his odd diet, he suffered from bad breath. This made him a super calloused fragile mystic hexed by halitosis.

[Return to Top]
February 2014 - Potpourri

Sharing a few things that you might use or enjoy...

[Return to Top]
January 2014

Wondering about reverse mortgages?


[Return to Top]
December 2013 - Interesting, and perhaps even true

Years ago in Scotland, a new game was invented. It was ruled "Gentlemen Only...Ladies Forbidden"...and thus the word GOLF entered into the English language.
Coca-Cola was originally green.
It is impossible to lick your elbow.
The first novel ever written on a typewriter: Tom Sawyer.
Each king in a deck of playing cards represents a great king:
- Spades - King David
- Hearts - Charlemagne
- Clubs - Alexander, the Great
- Diamonds - Julius Caesar
111,111,111 x 111,111,111 = 12,345,678,987,654,321
If a statue of a horse has both front legs in the air, the rider died in battle. If the horse has one front leg in the air the rider died as a result of wounds received in battle. If the horse has all four legs on the ground, the rider died of natural causes.
Half of all Americans live within 50 miles of their birthplace.
In English pubs, ale is ordered by pints and quarts. So in old England, when customers got unruly, the bartender would yell at them "Mind your pints and quarts, and settle down." It's where we get the phrase "mind your P's and Q's."
At least 75% of people who read this will try to lick their elbow!
See if you can read the message below:
I cdnuolt blveiee taht I cluod aulaclty uesdnatnrd waht I was rdanieg. The phaonmneal pweor of the hmuan mnid Aoccdrnig to rscheearch at Cmabrigde Uinervtisy, it deosn't mttaer in waht oredr the ltteers in a wrod are, the olny iprmoatnt tihng is taht the frist and lsat ltteer be in the rghit plae. The rset can be a taotl mses and you can sitll raed it wouthit a porbelm. Tihs is bcuseae the huamn mnid deos not raed ervey lteter by istlef, but the wrod as a wlohe. Amzanig huh?

[Return to Top]
November 2013 - Thoughts To Get You Through Any Crisis

Indecision is the key to flexibility.
Happiness is merely the remission of pain.
Be careful! Accidents cause people.
Nostalgia isn't what it used to be.
The facts, although interesting, are irrelevant.
Someone who thinks logically is a nice contrast to the real world.
Things are more like today than they ever have been before.
I have seen the truth and it makes no sense.
If you can smile when things go wrong, you have someone in mind to blame.
One-seventh of your life is spent on Monday.
By the time you can make ends meet, they move the ends.
Not one shred of evidence supports the notion that life is serious.
Never wrestle with a pig: You both get dirty, but the pig likes it.
The trouble with life is, you're halfway through it before you realize it's a do-it-yourself thing.
This is as bad as it can get, but don't count on it.
Expect the worst, you won't be disappointed.
That which does not kill you makes you stronger.

[Return to Top]
October 2013

Tips to help avoid identity theft.



[Return to Top]
September 2013 - Especially Helpful Windows Shortcuts

Ctrl + A selects an entire document or window (A = all)
Ctrl + C copies the selected item onto the clipboard
Ctrl + X cuts the selected item and places it on the clipboard
Ctrl + V pastes the clipboard item to the cursor's location
Ctrl + Shift + Esc opens the Task Manager
Ctrl + Esc opens the Start menu
Esc cancels the current task (Esc = escape)

[Return to Top]
August 2013 - Investors Glossary

Bull Market - A random market movement causing an investor to mistake himself for a financial genius.
Momentum Investing - The art of buying high and selling low.
Value Investing - The art of buying low and selling lower.
P/E Ratio -The percentage of investors wetting their pants as the Market keeps crashing.
"Buy, Buy" - A flight attendant making market recommendations as you step off the plane.
Standard & Poor - Our life in a nutshell.
Financial Planner - A guy who actually remembers his wallet when he runs to the 7-11.
Market Correction - The day after you buy stocks.
Cash Flow - The movement our money makes as it disappears down the toilet.
Call Option - Something people used to do with a telephone in ancient times before email.
Cisco - Sidekick of Pancho.
Institutional Investor - Investor who's locked up in a nut house.

[Return to Top]
July 2013

If you have not tried on-line shopping, it's about time. You can find a wider selection of products at competitive prices without wasting your time visiting multiple stores. Be careful about shipping charges as well as clothing that might not fit. The following sites are very user-friendly with search functions that work well. I have been using them for years. Try...

Staples for office supplies. Their normal delivery is lightning fast. I have ordered one afternoon and had delivery the next morning, but normal is a day or 2.

McMaster-Carr for hardware supplies, especially hard to find or specialty items like weird-size furnace filters. They normally deliver in 2 or 3 days from New Jersey. These folks have been in business for at least 50 years.

For the widest variety imaginable, way more than just books, try Amazon. Give preference to items that are in-stock and ship from Amazon departments (fulfilled by Amazon) over items from smaller, loosely affiliated, third parties who might also appear on the site.

I have also had good experiences with Walmart.



[Return to Top]
June 2013 - Thoughts for Today

I no longer need to punish, deceive, or compromise myself; unless I need to stay employed.
A good scapegoat is as welcome as a solution to the problem.
As I let go of my feelings of guilt I can get in touch with my Inner Sociopath.
I have the power to channel my imagination into ever soaring levels of suspicion and paranoia.
I will gladly share my experience and advice, for there are no sweeter words than "I told you so."
I need not suffer in silence while I can still moan, whimper, and complain.
I honor my personality flaws, for without them I would have no personality at all.
Joan of Arc heard voices too.
When someone hurts me, forgiveness is cheaper than a lawsuit, but not nearly as gratifying.
Why should I waste my time reliving the past when I can spend it worrying about the future?
I am willing to make the mistakes if someone else is willing to learn from them.

[Return to Top]
May 2013

How long to retain your financial records.



[Return to Top]
April 2013

The internet connection Speed Test.



[Return to Top]
March 2013

Link to the Washington Post article about my friend Michael. His work at Saint Catherine's Monastery follows his work helping to uncover the secrets of the Archimedes Palimpsest.



[Return to Top]
February 2013 - Interesting Quotes
"What I need is an exact list of specific unknown problems we might encounter." (Lykes Lines Shipping)
"E-mail is not to be used to pass on information or data. It should be used only for company business." (Accounting manager, Electric Boat Company)
"This project is so important, we can't let things that are more important interfere with it." (Advertising/Marketing manager, United Parcel Service)
"Doing it right is no excuse for not meeting the schedule." (Plant manager, Delco Corporation)
"No one will believe you solved this problem in one day! We've been working on it for months. Now, go act busy for a few weeks and I'll let you know when it's time to tell them." (R&D supervisor, Minnesota Mining and Manufacturing/3M Corp.)
Quote from the Boss: "Teamwork is a lot of people doing what I say." (Marketing executive, Citrix Corporation)
"We know that communication is a problem, but the company is not going to discuss it with the employees." (Switching supervisor, AT&T Long Lines Division)
One day my Boss asked me to submit a status report to him concerning a project I was working on. I asked him if tomorrow would be soon enough. He said, "If I wanted it tomorrow, I would have asked for it tomorrow!" (New business manager, Hallmark Greeting Cards)
* * * * * * *
YFiRE
Your Friend in Real Estate, LLC
Arlington, Virginia, USA





* Copyright © David Rathgeber *
* * All rights reserved. * *
* * * 2019 * * *